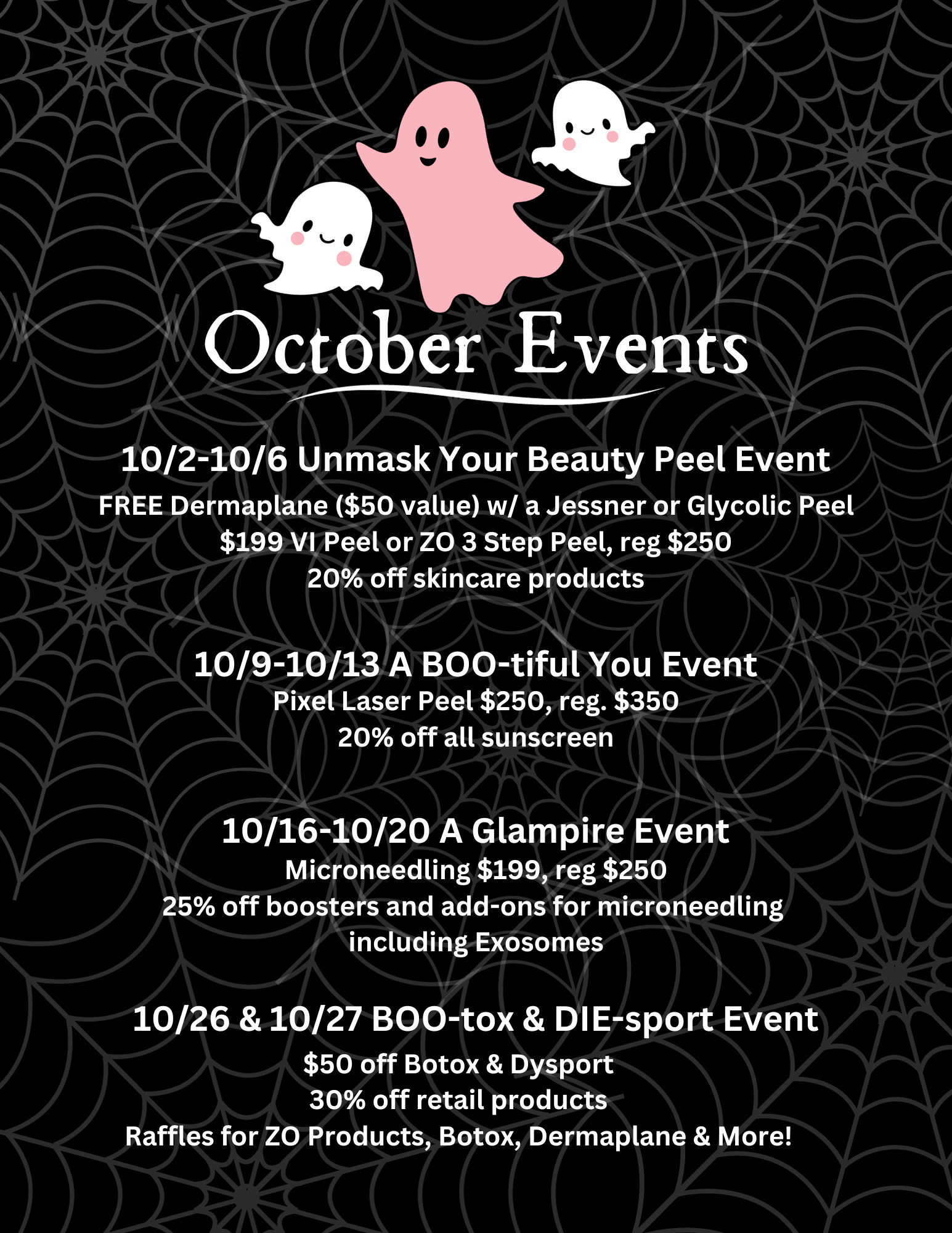 Embrace Spooky Season with Laser Lounge Med Spa's October Specials and Events!
???
The leaves are falling, and the ghosts are calling! Get ready to unmask your inner beauty this October with Laser Lounge Med Spa's enchanting lineup of spooktacular events and specials. Each bewitching offer is crafted to leave you feeling refreshed, rejuvenated, and ready to face the world with confidence.
October 2nd – October 6th
Unmask Your Glow
Join us for a week of enchantment as we kick off October with our "Unmask Your Beauty" event. Treat yourself to a Jessner or Glycolic Peel and receive a complimentary Dermaplane ($50 value)! Looking for something a little more magical? Dive into the world of VI Peels and ZO 3-step Peels for only $199 (usually $250). And don't forget to stock up on your favorite skincare products with a wickedly good 20% off.
October 9th – October 13th
A Boo-tiful You Awaits
Let your beauty shine through the spooky mist with our "Boo-tiful You" event. Experience the transformative Pixel Laser Peel for just $250 (a hauntingly good deal from its regular price of $350). And to keep your glow going, enjoy a spectral 20% off all sunscreen products!
October 16th – October 20th
Become a Glampire
Embrace your inner Glampire with our Microneedling event. Revel in the glow-up for only $199 (usually $250). Enhance your transformation with 25% off boosters and add-ons, including the mystical Exosomes.
October 26th – October 27th
Boo-tox & DIE-sport Event
End the month with a bang at our "Boo-tox & DIE-sport" event. Take $50 off Botox & Dysport treatments, and enjoy a supernatural 30% off retail products at the spa. Plus, don't miss out on the chance to win spooktacular ZO Skincare products, Botox, Dermaplane & More in our hair-raising raffle!
?️?
With potions and peels, we're brewing up a spellbinding October at Laser Lounge Med Spa. Don't miss out on these fang-tastic offers! Book your appointment today and let the magic begin.
Wishing you a bewitching and beautiful Halloween season!