Let's Talk, Collagen!

Article By Mary Bauer, Owner/Esthetician
Did you know that collagen production starts to dwindle in our late twenties? By the time we are in our 30's, we lose 1-2% a year. With collagen loss comes volume loss and loss of elasticity, and it often only takes a couple of years to start to notice the changes.
As we start to notice these changes as we move into our thirties, most responses are to run out and get Neurotoxins, such as Botox or Dysport, or fillers or purchase an expensive eye cream. While Botox, Dysport, and Hyaluronic Acid fillers like Juvederm and Restylane are great treatments, it is still important to incorporate collagen-stimulating treatments so you do not end up in a skincare gap.
The Good News
Today, thankfully, technology has come a long way, and there are treatments to prevent and reverse this type of aging, and it can be more budget-friendly and longer lasting than just fillers alone.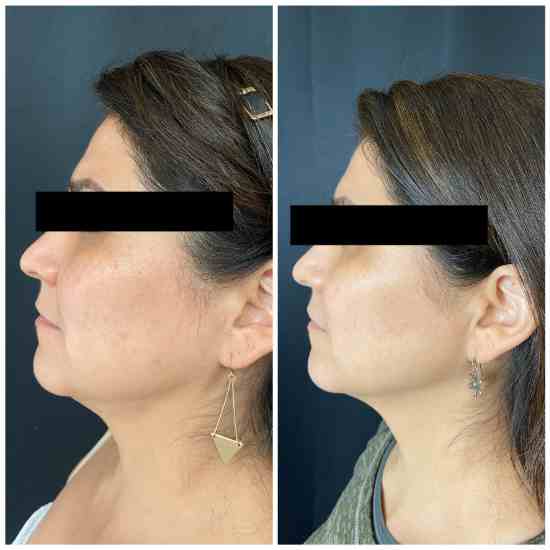 After only 1 treatment. Significant tightening, lifting, and definition on the jawline and under the chin. Improved acne scars and hyperpigmentation on cheeks.
Our Favorite Treatment
Our treatment of choice for stimulating collagen production is RF+Microneedling. RF+Microneedling is a High-Intensity Focused Radio Frequency technology that delivers thermal energy deep into the dermis to stimulate collagen for impressive results. RF+Microneedling addresses fine lines and wrinkles, tone and textural changes, sagging skin, scars, acne scarring, and overall skin rejuvenation. It can also be used to improve stretch marks and to improve skin elasticity on almost any part of the body.
Microneedling Benefits
RF+Microneedling is safe for all skin types and is safe year-round. It is very hard to avoid sun exposure in Texas, so this is a perfect treatment as it does not discriminate by skin color or tanned skin, which is another reason this treatment is at the top of our list. It's very important to start treatments that stimulate collagen production in your late twenties. Relying on Botox and fillers alone is not a recipe for success. While these treatments provide temporary fixes, it is very important that we address the issue which is collagen loss.
When should you start?
Scheduling yearly RF+Microneedling treatments as early as your late twenties can help prevent a need for surgical facelifts later in life. Clients notice a gradual but significant change over time. There is minimal to no downtime with RF+Microneedling treatments. There is initial redness and swelling, which substantially subsides after 24-36 hours. Most clients resume their activities within 48 hours of treatment, making this one of the easiest skin rejuvenation treatments to fit into your schedule. Unlike many other procedures, this has long-lasting results since it is your own body at work. The effects could last for years. Though many clients are satisfied with their results after just one treatment upon consultation, a treatment plan will be customized for you for the best results. During your consultation, we will examine your skin type and concerns as well as discuss RF+Microneedling aftercare.
Visit Laser Lounge Med Spa in beautiful Georgetown, Texas! Call to book your appointment today at (512) 863-2118.